Oakley's Airwave goggles combines high quality optics with a large set of tech features. The heads-up display developed by Recon has been integrated with GPS and Bluetooth. This means the Airwave can connect to your smartphone, and beam emails and text messages directly onto the lens. It also receives incoming calls.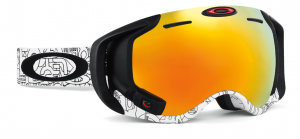 The MOD Live that the Airwave uses to display and relay information is unobtrusive so it doesn't obscure your view. The data is displayed using Prism technology so everything appears to be five feet away across a 14 inch screen and you won't need to refocus your eyes.
That fighter pilot-inspired display provides precise tracking. It tells you exactly how fast you're descending. In the air, the goggle will tell you how high and far you jump, and how much time you've actually spent in the air. If you've got a favorite playlist to ride to, these  goggles will access it too.
Even in remote backcountry, the geography of your surroundings is laid bare for you to examine. You'll be able to find out your vertical feet by run, by day and over the course of the entire season. By using the goggle and it's associated Android and iPhone app, you'll even have the ability to find and track your friends.
This goggle isn't just revolutionary for the electronics it carries. Plutonite lenses deliver  precision and clarity, even in hostile conditions. Oakley's anti-fog features also play a starring role, with F3 anti-fog technology operating between the lenses to stop moisture settling. The O-Matter frame is extremely tough and light too, and Switchlock Technology allows you to change lenses instantly.
Thanks to SunglassesShop.com for the info on Oakley's new Airwave Google. Here are some more eye-wear links from there site.