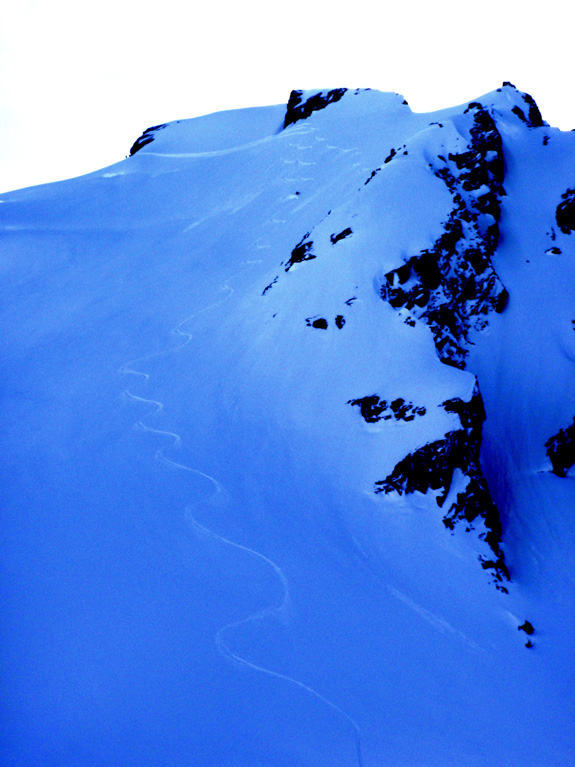 By Chris Stewart
It's April and I am sitting here having a glass of wine and jonesing for some powder. All I can think about is my recent trip to Points North Heli Adventures and skiing in Cordova Alaska.
Nothing I have seen or stories I have heard can convey the feeling of skiing the Alaskan Chugach. It's bigger, more powerful and steeper than anything I ever imagined. It is something that one must personally experience in order to fully understand…it is unlike anything else.
Last month I took my first trip to Alaska…the year prior I set a goal for myself. I was overweight and wanted to get into "ski shape". My goal was to lose 35 lbs and my reward AK. I had achieved my goal of losing the weight and getting in the best shape I knew possible to take on Alaska but was it enough?
I am an average skier. But I wanted to test my ability and take my skiing to a new level. So I booked my trip to Cordova Alaska with legendary skier Chris Anthony from the Warren Miller Team.
Upon arriving in Alaska the Points North Team was very accommodating. I flew directly into Cordova and was picked up at the airport by the one of the staff members from PNH. Points North Headquarters and the Orca Adventure Lodge were just a short drive from the airport. The accommodations turned out to be great. After checking in with the PNH team, they took our photo and handed out probes, beacons and harnesses. The kitchen staff then offered us a hot meal that tasted wonderful especially after spending entire day on a plane.
Before departing from the Sacramento Airport that morning the weather forecast indicated seven days of rain in Cordova which translated to our entire trip. So upon departure I wasn't feeling very optimistic about the possibility of clear skies. When I inquired about the weather situation Jessica Quinn responded with "Oh don't pay attention to that…weather here in Cordova changes by the hour", and sure enough our group had the opportunity to ski three of the seven days while in Cordova.
All skiers staying at the lodge and all PNH crew are required to have in their possession a Motorola Radio. When it's time to fly the groups are notified via radio to prepare for departure in the staging area. When you get the call for the first time it's an unbelievable feeling. As one of the skiers described it "this must be what it feels like to come out of the tunnel at the Superbowl", because it is….It's the Superbowl of skiing. You can hear Kevin's "Magic Carpets" warming up outside as your heart starts pumping and the adrenaline starts flowing. As one PNH guide put it "the sound of the heli never gets old".
The first day of skiing the snow was very similar to Sierra Snow. Somewhat heavy but still wonderful powder. The next day we received over two feet of new snow at the higher elevations. Our second day out was one of the greatest days of my life. The velvet that I have been told about for years lived up to its reputation. It is very forgiving yet the mountains are steep which makes for an unbelievable experience in the most challenging terrain imaginable. The average run that day was about 2200 vertical feet with the longest run of the day being 3200 vertical feet. We were fortunate to get eight runs in that day. As one of my good friends Tom Hicks (and fellow private pilot) said to me after skiing a run called Sweeter Than Wine.. "Chris…It's kind of like flying huh?" At the time and to this day I have a hard time putting it into words but Tom's description fit it perfectly.
My advice to anyone contemplating on going would be the following. Make sure to go with a group of four friends that you know well. And when I say "know well", I don't mean that you know them well personally. You need to know how well they ski. Can they ski crud? How about wind effect? Can they ski steeps? How are they in the pow? Most importantly are they all approximately the same level of skiers? Ski with all of them in as much as possible prior to going to make sure everyone is of the same ability level. The varying conditions can be challenging. If you go with an odd number of people you will most likely be grouped with someone that you don't know or that is of a different ability level.
After watching countless Warren Miller and Matchstick films I have always dreamed of skiing in Alaska. Skiing with Chris Anthony and experiencing PNH was like hanging with the band. There is no way to convey in words the feeling or the experience of skiing the Chugach. If you love to ski and you haven't been…. it's very simple ….you just have to go.