Nature Shop recently gave us the chance to test out some quality wool clothing from Icebreaker. The New Zealand based company carries everything from underwear to coats for kids and adults. Our whole family got outfitted and we were all thoroughly impressed.
I tried the Bliss Hood (Blizzard Stripe) and it quickly became my go-to shirt for everything from a camping/skiing trip to Mt Lassen to a weekend in San Francisco. Warm, soft and lightweight, the buttoned v-neck and casual stripes disguise this highly technical garment, making it suitable for everyday use.
Our son also scored a hoody. It's not often that two-year-olds get excited about clothing, but this was one of those rare times. As soon as we got his LS Hoody out of the box and he spotted the skateboard print, he couldn't wait to get it on. I have to admit that I was a little nervous to put it on him for fear of the dreaded "Itchy!" scream, but I didn't need to worry, the hoody was as soft as a baby blanket and he loved having it on. His second favorite part of his new shirt was the booklet that came with it, including pictures of the Merino sheep that were sheared to make the shirt. He walked into school that morning and proudly announced, "My shirt was made from the fleece of a sheep!"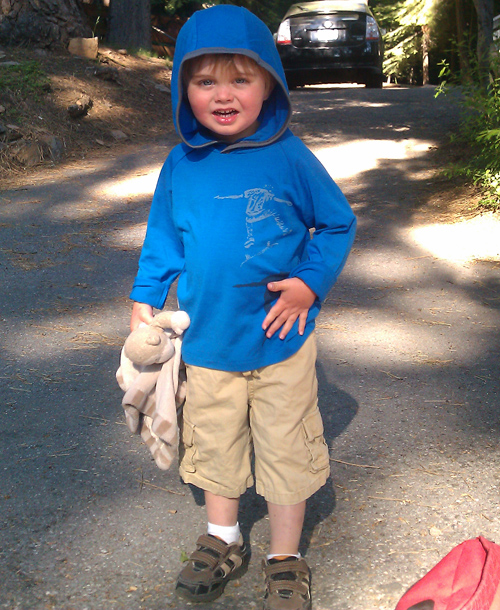 Rob switched from ski touring and bike riding in cotton boxers to Icebreaker's Relaxed Boxer w/Fly and there is no turning back. The excellent moisture wicking and soft, relaxed fit make a huge difference on long rides and tours.
Aside from the comfort and style of the products that we tried, we were impressed by the ethos of the companies who provide them. Every Icebreaker product that Nature Shop ships is accompanied by a green tag that says "trace me." By entering the "BAACODE" from the tag on your garment at icebreaker.com, you can find out info on the sheep station(s) from which its fibers originated.