New book by Jennifer Woodlief documents 1982 avalanche disaster at Alpine Meadows
Review by Rob McCormick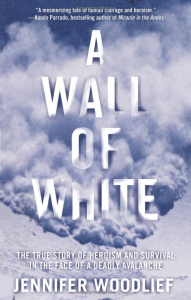 I like it when it snows. I like it when it snows really hard for days on end. I get depressed when the sun finally comes out after a long storm cycle. If you feel the same way you will love reading A Wall of White. This new book documents the mother of all storm cycles that ultimately led to the deadliest avalanche ever to occur at a North American ski resort.
Nearly three decades after this historic slide, Jennifer Woodlief has written a detailed account of the event that occurred at the Alpine Meadows ski area on March 31, 1982. The book covers the history of the Alpine Meadows ski patrol and the dynamics of the slide and recovery. It also develops the cast involved with the tragedy including victims and rescuers.
In the early 1980s, snow safety at Alpine Meadows involved a scraggly bunch of ski patrollers and a variety of devices including hand charges, a 75mm recoilless rifle and a pack howitzer. Most patrollers were hard core, type t personalities that thrived on the inherent risk involved with snow safety. Most of the crew at one time or another had taken "rides" in smaller avalanches resulting from ski cutting potentially dangerous slopes to make them release. Storm days involved throwing upwards of 100 gelatin dynamite hand charges onto potential slide zones. Also used was a recoilless rifle which had a one hundred foot kill zone out the back end making it especially dangerous to operate. It was used to trigger larger unstable slopes from greater distances during brutal storm conditions. The rifle was retired in the early 90's after it exploded and killed a forest service employee. Another device no longer in use was a military pack howitzer which rolled around on two wheels allowing for great mobility. Patrol would fire it from various locations around the parking lot. One time the howitzer was brought down to the intersection of highway 89 and River Ranch to release the unstable snow above the road. It's operators misjudged the trajectory and fired a round over Mt. Watson and into Lake Tahoe.
A Wall of White goes to great length building characters that were affected by the avalanche. Several of the victims were ski vacationers staying at the condos near the base of the ski area. A few family members decided to walk through the blizzard to the Alpine base lodge via the parking lot at the perfectly wrong moment that the avalanche roared down from the mountain. Other casualties included Alpine Meadows employees that were stationed in the Summit Terminal Building which was obliterated by the avalanche.
Jake Smith was a very popular, free spirited ski patroller who was caught and buried by the slide while snowmobiling on the far end of the Alpine parking lot. After his death his brother spent three years lobbying to the US Board on Geographic Names to have a West Shore Lake Tahoe peak named after Jake. Many Tahoe skiers are familiar with Jake's Peak which is a backcountry classic.
The most amazing survival story is that of Anna Conrad, who lived for five days trapped in an air pocket within the Summit Terminal Building. Her rescue was the first time a dog was used to locate an avalanche victim. Dogs are now commonplace with both Alpine and Squaw Valley ski patrols. The most tragic thing about the victims of this avalanche is that they were not typical risk takers that put themselves into dangerous situations to ski spectacular terrain. They were merely innocent bystanders that were caught extremely off guard by a massive climax avalanche that was on par with a hundred year storm type of event.
The book does a fantastic job at conveying the truly amazing amounts of snow that fell during a period of ten days. It is almost inconceivable that rescue operations had to halt for nearly four days after the avalanche because it continued to snow almost as much as it had to create the original avalanche conditions. When the storm finally subsided, a helicopter was used to drop explosives over the road below the Five Lakes area between Squaw Valley and Alpine Meadows. Some of the charges release slides that left crowns over twenty feet deep.
A Wall of White is a must read for Tahoe residents since the story it tells is a major part of North Lake Tahoe history and ski history in general. It is also a great read for skiers, adventure enthusiasts and anyone else who gets excited by copious amounts of snowfall and the potential hazards it brings to a community. Despite the grim side of the story there are many accounts of tremendous will to live and to save lives in the shadow of a killer avalanche.