After gremlins snuck off with the last pair of earphones in the house, Rob and I were treated to two new pairs from House of Marley. Rob has been using the Redemption Song Earphones and I have been using the Conqueror Earphones.
Both come with a pouch full of silicon tips of varying shapes and sizes so we were able to choose the ones that fit our ears best and provide optimal sound. Being able to customize the fit is especially important so that the earphones don't slip or fall out when running or otherwise moving around. Its also nice to have some backups in case you loose a tip.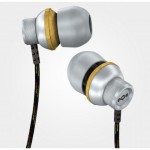 The long fabric cord is another really cool feature. I am the queen of cord tangle; if its possible for something to tangle, I'll make it happen. The fabric cord on these earphone is significantly less likely to tangle, and much easier than rubber to untangle.
Attention to detail and emphasis on social good is another great reason to choose House of Marley. The packaging and the aluminum ring are made from recycled material and a portion of proceeds go to 1Love.org, an organization that supports charities for sustainable and responsible living.
To use these earphones as a handsfree device, you can upgrade any model to a 3-button remote with microphone for $20. You also get a choice of tip color on many models.