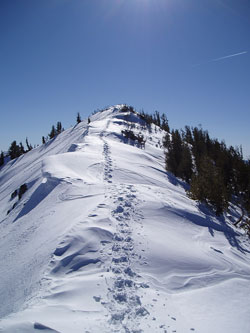 If you look east from downtown Truckee you will see a cluster of mountains that comprise the Mt. Rose Wilderness.  With five peaks over 10,000 feet these are the tallest mountains in the North Tahoe Region.  If you gaze toward the southern tip of the range you will see a steep cirque that tops out at the summit of Relay Peak.  I always thought this looked like a great ski descent but was unsure of the accessibility.  This Saturday I decided to check it out with a few friends.  With in-bounds ski conditions deteriorating we figured a cool tour into new territory would be fun regardless of whether we found good snow.
We started from the parking area just above the snowpark on the Mt. Rose Highway and used the Relay Peak access road as our approach route.  This road is a veritable freeway for snow-machiners.  With a steady flow of traffic, this three and a half mile route does not feel like deep backcountry.  It is, however, one of the easiest skin approaches in Tahoe to good ski terrain at high altitude. If you are lucky enough to have a snow machine, this is the perfect place to use it on the approach and stash it before heading into the wilderness area to the west.  Taking slightly different routes, our party of five reconvened at the microwave towers on Relay Ridge.  From there we left snowmobile traffic behind and skinned up the ridge to the summit of Relay Peak proper.  The view from the top is amazing.  You can see Lake Tahoe to the south, the Carson Valley to the east and as far as Mt. Lassen to the north.
Photos by Grant Kaye & Justin Winter
I took a few steps below the summit to survey snow conditions in the cirque we hoped to ski and discovered a crust layer over depth hoar. Poor conditions on that aspect were not necessarily a bad thing as we started super late and would be flirting with darkness if we had to hike back up and out.  We spotted a very enticing northeast facing couloir on the ridgeline past the cirque that would make coming back for a double shot of both very tempting.
We descended the rock-strewn bowl that heads back to the highway.  Grant Kaye skied a steep line through the center of the rocks on good, edgeable snow.  The rest of us picked more gradual north-facing lines and were surprised to find dry powder.  We stuck to the shadowed portion of a gully that kept our skis on good snow for about 1,100 vertical feet before joining up with the access road.  Looking back we realized if we had followed the ridgline south of Relay Peak it would have lead us to a perfect northeast pitch with good snow.  Next time!
Relay Peak is a worthwhile adventure for Tahoe backcountry skiers.  It is especially attractive during lean snow years when lower elevation routes like Jake's and Tallac are melted out at the bottom.  Although the snowmobile traffic on the approach is heavy, skier traffic in the motor vehicle prohibited wilderness to the west is very light.  This makes for a great combination of easy access and good snow in some of the slightly more intriguing and obscure ski terrain in the area. -Rob McCormick