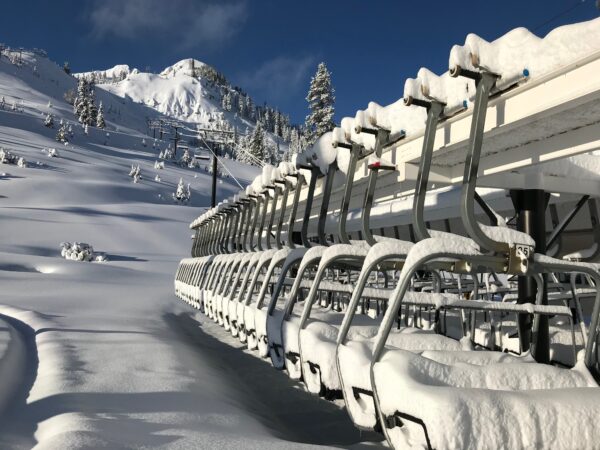 As fall turns the corner to winter it's not hard to ponder what the ski season will bring. To call last year strange would be an understatement.
December 2019 started off with consistent snowfall and nice conditions that prevailed into the New Year. Toward the end January, Tahoe slipped into a high pressure vortex that would last for two months. Tahoe City received one inch of snow in February making it the driest since 1988. The skiing wasn't bad but it seemed like an eternity without fresh snow.
Meanwhile, Covid 19 started creeping into the national consciousness. By early March it was impossible to ignore. As coronavirus infections skyrocketed, unprecedented lockdowns were instated throughout the country. The North American ski industry took the extraordinary measure of closing operations in the middle of a peak winter weekend. That weekend (March 13 through 15) coincided with the first real snowfall Tahoe Resorts had seen in two months. Saturday was a full on storm skiing day and on Sunday everything was closed. The following week, shelter in place orders kept people home from work and skiers started sneaking into the backcountry. The second half of March injected a mainline dose of storms and powder skiing for those who ventured out. Ski resorts never reopened.
The upcoming ski season seems rife with uncertainty. As temperatures have cooled down and people have moved inside, Covid 19 infections are ramping up at alarming rates. Vaccines show great promise but world distribution is not going to happen overnight. Most ski areas plan to open with some type of Covid plan. Limiting or eliminating day ticket sales, reducing or pausing season pass sales, limiting indoor vending and requiring masks and social distancing are some of the many tools anticipated so far. Chairlifts will be loaded in family units or singles on opposite sides of the chair. Will these new protocols work? Will the ski season happen albeit under a new normal? Will ski areas survive with limited food and beverage and retail concessions? Will rampant infections shut down the entire industry again? Will ski touring become the only option and if so, will unexperienced skiers change the dynamic in the backcountry? Time will tell. Skiing-blog.com will report what we see. No matter how strange it may be.